Happy New Year in different Chinese languages
CBPS Member Teacher in Brighton, Jing Wang shared this:
The Chinese Zodiac, known as Sheng Xiao 生肖, is based on a twelve-year-cycle, each year in that cycle is related to an animal sign.
The animal year when a person was born is called his /her Ben Ming Nian 本命年 (Zodiac Year of Birth). Although it sounds a bit superstitious, Chinese people take their year of birth seriously. According to the soothsaying, people in their own Ben Ming Nian may offend "Taisui", also called the God of Age. Most popular solution is wearing red underwear, socks or waist belts given by elders, for red is believed to bring them good luck.
I personally suggest wearing a pretty bracelet, necklace or anklet. For doing this kind of thing is to make life filled with fun.
She painted this calligraphy rabbit:

An insight into Huang Yongyu's blue bunny!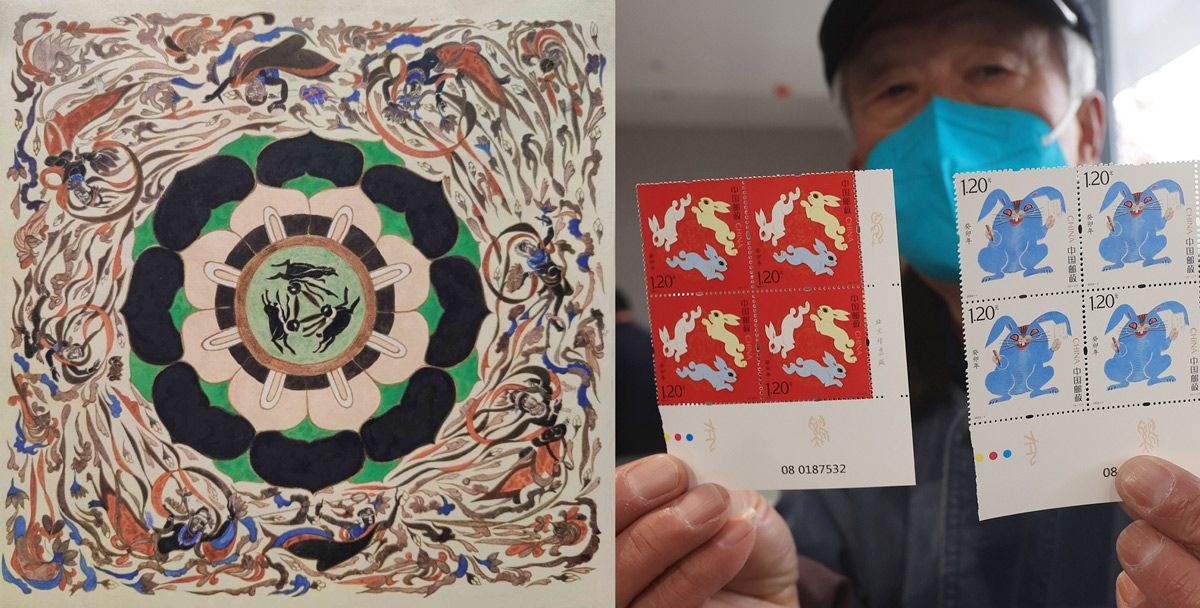 And rabbit stamps from Guernsey, Jersey and New Zealand.   Thanks to Pat M for the pointer.
Hare or rabbit?
  The Chinese word
兔子
(Tùzǐ) is a general term for
Leporidae
, and so can be translated as hare or rabbit.  Leporidae are part of the same order (lagomorphs)  as
Pika
.
Qing Leng's rabbits (left) may have been influenced by western painters at the Qing Court such as
Guiseppe Castiglione
.
Here are some more Chinese leporidae: